🎄 Teamup Elf's Christmas Collection 🎄
Quarterly Calendar
Fri Dec 6, 2019
Calendars for Print
A quarterly plan is particularly helpful for academic and business planning. Need to get a solid look at all the school projects coming up? Or perhaps you need to plan how you'll allocate your team's energy and resources in the next quarter. You can customize this blank quarterly calendar, print it out or use it on your tablet, fill in all the details, and stay organized for all the projects and deadlines ahead.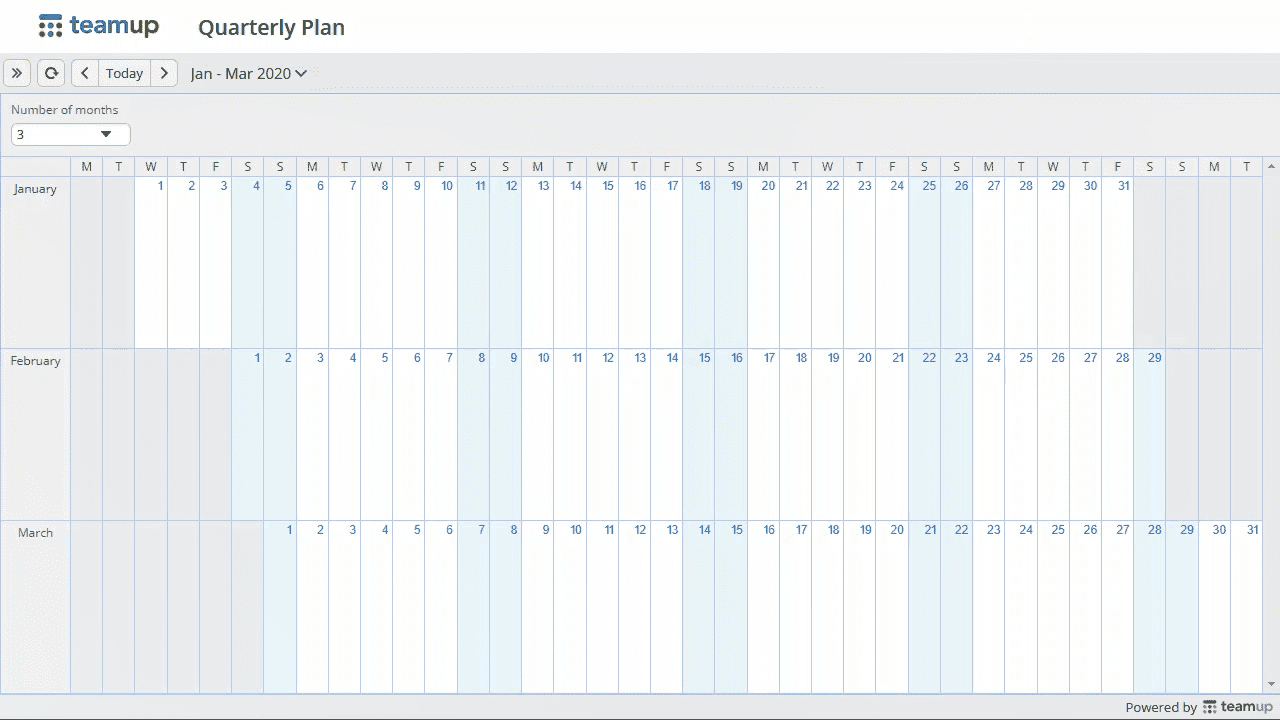 🎁 Get It Now 🎁
To make your calendar look like this, append the following link parameters to the your calendar link:

title=Quarterly Plan
*Change the title to reflect the projects you're planning, if desired: "Academic Plan, 1st Quarter" or "Team Projects for Quarter 1." 
view=y3m
date=2020-01-01
*Change the date as needed so the quarterly planner starts on the day you wish.
Here are some more parameters to remove some visual elements that you may not need for a calendar on paper:
showSidepanel=0 hides the left sidebar. If you'd like to display or print the calendar with the existing events on your calendar, you may want to change it to showSidepanel=1
showViewSelector=0 hides the view options you set to be visible in Settings > Calendar Views. If you prefer another view, you could either set the value with the view parameter directly or showViewSelector=1 and select the view you want before print.
showSearch=0 hides the search function since there is no use for print.
showMenu=0 hides the 3-line blue menu in the upper right
Once you like what you see, you can simply print it from your browser.
You can also use your own calendar as printable blank template: To make it "blank" for printing, simply select All at the top of the sub-calendar list. This will toggle off all sub-calendars from view, hiding all events on the calendar. Once you've printed the blank calendar, click All again to bring all sub-calendars back into view.
Do you set quarterly goals for your business, learning, or personal growth? Please add your comment below.
For more tips the Elf has delivered, check out Teamup Elf's Christmas Collection calendar.