🎄 Teamup Elf's Christmas Collection 🎄
Weekly Calendar in Two Faces
Tue Dec 3, 2019
Calendars for Print
Do you know you can set the Weekly Calendar with or without an hourly grid? If your task is scheduled to start or you are required to complete the task at a specific time, you use the commonly supported weekly calendar:
What if your tasks do not have any specific starting or ending time? We often have such tasks that we just want to work on it during a specific day or week.  In such a case, it's best to leave out the hourly grid and keep each day uncluttered: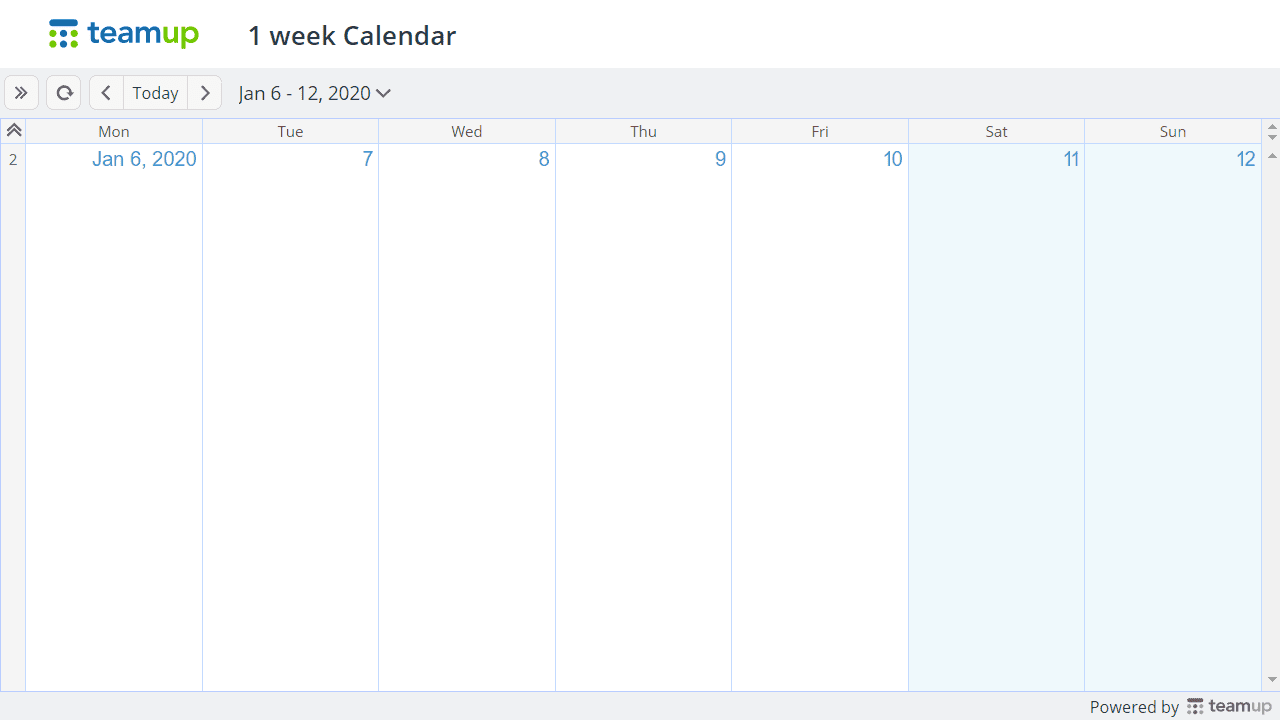 🎁 Get It Now 🎁
To make your calendar look like this, append the following link parameters to the your calendar link:

title=1 week Calendar
view=mw1 to make use of the multi-week view but set the number of weeks to 1.
You may leave out the date parameter to show the current week.
Here are some more parameters to remove some visual elements that you may not need for a calendar on paper:
showSidepanel=0 hides the left sidebar. If you'd like to display or print the calendar with the existing events on your calendar, you may want to change it to showSidepanel=1
showViewSelector=0 hides the view options you set to be visible in Settings > Calendar Views. If you prefer another view, you could either set the value with the view parameter directly or showViewSelector=1 and select the view you want before print.
showSearch=0 hides the search function since there is no use for print.
showMenu=0 hides the 3-line blue menu in the upper right
Once you like what you see, you can simply print it from your browser.
You can also use your own calendar as printable blank template: To make it "blank" for printing, simply select All at the top of the sub-calendar list. This will toggle off all sub-calendars from view, hiding all events on the calendar. Once you've printed the blank calendar, click All again to bring all sub-calendars back into view.
How would you design your favorite calendar for the holiday season? Please add your comment below.
For more tips the Elf has delivered, check out Teamup Elf's Christmas Collection calendar.